GRANDEST CLASSICAL HITS FOR CELLO & PIANO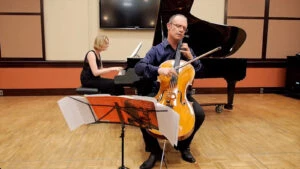 — Concert Fundraiser Event
Friday, September 28th, 2018 at 7 pm
Location: North Bennet Street School, Windgate Hall, 150 North Street, Boston, MA 02109
Tickets: $25+
To purchase individual ticket(s), please click here.
For table reservations, please contact Sherri Snow at ssnow@nempacboston.org or call 617-227-2270.
This special fundraising concert features Italian-born cellist Dr. Francesco Mastromatteo and Boston-based pianist Dr. Christina Wright-Ivanova, performing an exhilarating program with works by Italian, Argentinian and Polish Composers that include Piazzola's Grand Tango, Piatti's Rimembranze del Trovatore di Verdi and Chopin's passionate Sonata for Piano and Cello. You can hear a sneak preview here.
Returning to NEMPAC as a Guest Artist, Francesco is known for his colorful introductions to the music, as well as as his unique and powerful performances. This promises to be a highly entertaining event!
Thanks to the generosity of our sponsors for this event, all proceeds will go towards the ongoing funding of our Education and Music Programming.