HUNDREDS ATTEND MOZART'S DON GIOVANNI AT BOSTON'S FANEUIL HALL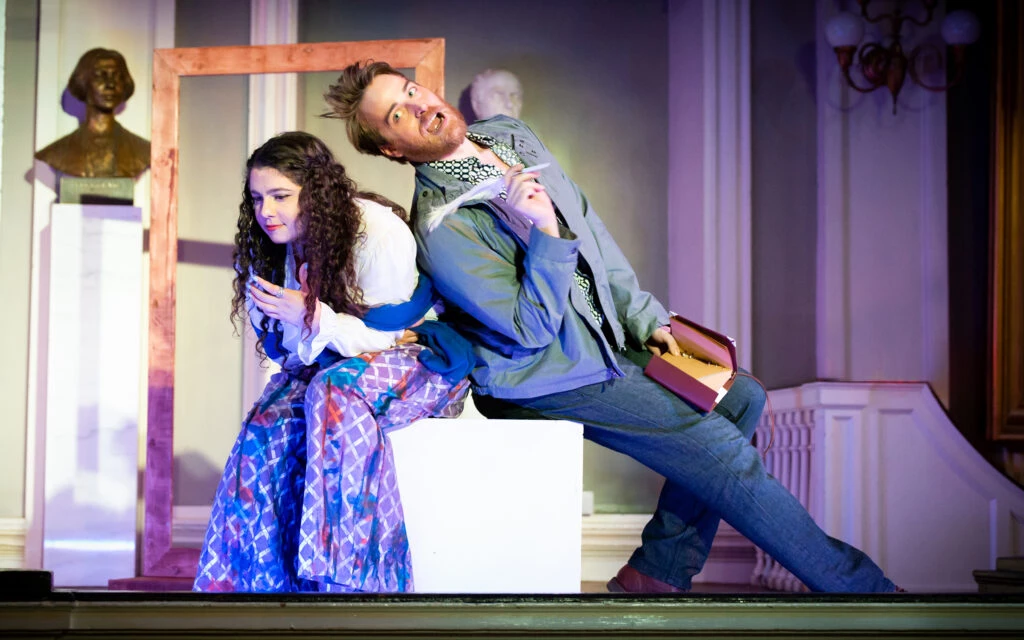 NEMPAC Opera Project presented the 2018 production of Wolfgang Amadeus Mozart's Don Giovanni at Faneuil Hall's Great Hall on Thursday, June 21st and Saturday, June 23rd at 7:30 pm, with hundreds of music-, theatre-, and opera-lovers in attendance.
On Opening night and prior to the performance, our generous sponsors, supporters, friends and Board Members attended our VIP reception at the Union Oyster House where they mingled and were treated to a preview solo aria from Don Giovanni (see HERE.)
Our 7th annual opera performance was a fully staged opera accompanied by orchestra, sung in the original Italian with English supertitles, performed by outstanding professional singers (see HERE), and featuring NEMPAC theatre students (see HERE.)
"It was a real pleasure to work with such brilliant team of singers, designers, and musicians to bring this piece to life. It's always exciting to return to the Great Hall and this year was yet another treat," said Sherri Snow, NEMPAC's Executive Director.
NEMPAC Opera Project's Music Director and Conductor Dr. Tiffany Chang returned to the podium this year to conduct the orchestra, and NEMPAC Opera Project's Artistic and Stage Director Rebecca Miller challenged the concept of conventional theatre space by reinventing opera at one of the most unique and historic non-traditional performance spaces in the City of Boston.
"This was a fantastic opportunity to reclaim the Don Juan archetype and reinforce that narrative through a re-envisioning of the historic Great Hall. In 2016, when I directed Rossini's La Cenerentola in 2016, the Hall symbolized oppression—I set Cinderella during the Revolutionary War, just as Faneuil Hall was used as a theatre space to entertain British troops in 1775. In 2017, when I staged Beethoven's Fidelio (set in a prison), I emphasized the Hall's role as the "Cradle of Liberty," reminding audiences of what the promise of American freedom can be, and yet how far we still have to go. This year, I emphasized the patriarchy's role in both Don Giovanni and in the structure and decoration of the Hall; busts and paintings of Founding Fathers literally and figuratively look down on the playing space, informing the mood and tone of the production. These productions all melded performance forms with the realities of history to provide a forum for change through art and music," explained Rebecca Miller, NEMPAC's Opera Project Artistic and Stage Director.
Wolfgang Amadeus Mozart based his masterpiece, Don Giovanni, on the legends of fictional libertine and serial seducer Don Juan. Reimagined as the infamous womanizer Don Giovanni, Mozart and his librettist Lorenzo Da Ponte created a predatory philanderer, consumed entirely by his own desires —wreaking havoc in his wake.
Opera is a brilliant and rich art form that brings together many disciplines such as visual arts, acting, singing, directing, lighting and design, and through this year's production we aimed to present a vibrant, contemporary and relevant interpretation of this legendary piece. In fact, the audience was elated by its magnificent score and timely story, gave a profuse standing ovation at each performance, and shared wonderful feedback.
"I'm so impressed and grateful that NEMPAC is able to make such a high caliber of performance available to our community. It was not only thoughtfully directed and musically impressive—but the content was also so relevant in the era of #metoo," expressed Don Giovanni's audience member Darcy Jacobsen.
To learn more about NEMPAC's performance events and educational programs, please visit www.nempacboston.org.
– – – – – – – – – – – – – – – – – – – – – – – – – – – – – –
The NEMPAC Opera Project 2018 Production was possible thanks to the generous support from sponsors and partners:
Co-Presenting Level Sponsors $5,000:
Andrea and Arthur Waldstein | NorthEndBoston.com
Maestro Level Sponsors $2,500:
The City of Boston | Friends of the Christopher Columbus Park | Greater Tacoma Community Foundation | TD Bank
Orchestra Level Sponsors $1,000:
Boston Cultural Council | Union Oyster House
Share This Story, Choose Your Platform!