NEMPAC JAZZ IN THE PARK OPENING CONCERT FILLS THE NORTH END GREENWAY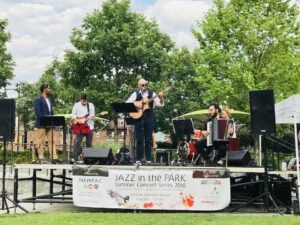 Yesterday evening a wonderful and relaxed audience of hundreds sitting at the swing benches, table & chairs, picnic sets and lawn chairs warmly welcomed NEMPAC Summer Concert Series 2018: Jazz in the Park that opened with Scanzonati and its fuse of Italian "Musica Leggera" with jazz harmonies!
Scanzonati is an exciting and original group that revisits some of the classic Italian pop songs of the past 30 years in an acoustic setting with sophisticated harmonies and arrangements. The band combines charming and soulful vocal textures with talent and creativity, in a quest for discovering new sounds and atmospheres.
Led by Artistic Director Stefano Marchese (voice & guitar), Scanzonati is made of Samuel Batista (sax soprano), Giò Albanese (accordion), Claudio Magrassi (guitar), Andrea Pejrolo (bass), and Renato Milone (drums). To hear a clip from yesterday's free outdoor live concert, see HERE.
During this concert, and with the assistance of young volunteers and NEMPAC students, our audience had the opportunity to participate in a free fun raffle. We want to thank everybody who attended, everybody who provided great feedback, and everybody in attendance who donated at the event to support NEMPAC and its mission to provide music education and programming affordable for all.
We hope to see you again next week! Please share our event with friends and neighbors, and join us next Tuesday! For more information, visit www.nempacboston.org, or follow us on www.facebook.com/nempacboston
See below the line-up for the remainder Summer Concert Series 2018: Jazz in the Park, Tuesdays in July on the Greenway (Hanover St/Cross St), 6 – 7:30 pm:
July 17th – Marco Pignataro Jazz Quartet
Modern jazz with Latin, Mediterranean and folk influences
July 24th – Receita De Samba
The many flavors of Brazilian music in their purest form, with the finest bossa nova and samba
July 31st – Dirty Water Brass Band
Boston-based raucous street band with a style mix of eclectic, second line, soul, R&B, Motown, rock, and jazz NEMPAC embraces inclusion, diversity and multiculturalism
Rain location is the Boston Public Market. Concerts are appropriate for all ages.
– – – – – – – – – – – – – – – –
About the NEMPAC Summer Concert Series:
The NEMPAC Summer Concert Series started in 2011 as a modest community building initiative to share music at the Prado (Paul Revere Mall) with the neighborhood. It developed into a yearly program, ensuring that music is accessible to all residents, visitors, and community members in the North End and surrounding neighborhoods. This year we recognize the incredible opportunity to embrace the local activities and nightlife our surroundings has to offer and also reach out to new audiences!
– – – – – – – – – – – – – – – –
The NEMPAC Summer Concert Series 2018 is possible due to the generous support from our sponsors and partners:
Gold and Silver Level Sponsors $1,000 – $2,500:
NorthEndBoston.com
Century Bank and Trust Co.
Harbinger Development
Community Level Sponsors $250 – $500:
Eagle Bank Pirandello Italian Language Center
Jazz in the Park Series Partners:
The Greenway Conservancy
The City of Boston Mayor's Office of Special Events
– – – – – – – – – – – – – – – –
www.nempacboston.org | info@nempacboston.org | 617.227.2270
Share This Story, Choose Your Platform!