NEMPAC Summer Concert Choir Opens for Boston Landmarks Orchestra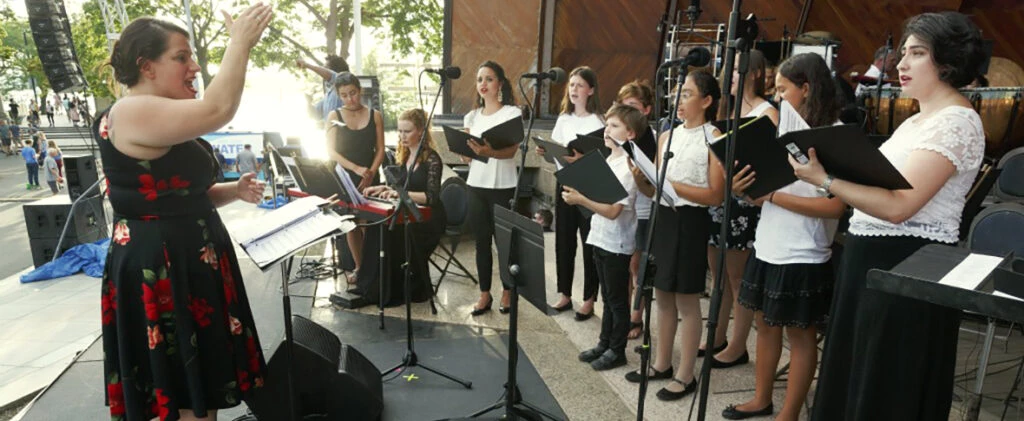 On Wednesday, August 1st, 2018, NEMPAC Summer Concert Choir opened with a pre-concert prelude for the Boston Landmarks Orchestra's Verdi Requiem at the Hatch Shell in Boston, MA, with hundreds in attendance at this beautiful and distinguished outdoor performance space.
Maestro Christopher Wilkins, Conductor and Music Director of the Boston Landmarks Orchestra, introduced the group to the stage with his thoughtful remarks about our strong partnership over the years and work in the community: "…For you, we have a first time eve Landmarks presentation which is a mini-recital to kick-off our evening. We're featuring a choir from North End Music & Performing Arts Center—one of our favorite partners. We've partnered with them since 2015, and one of the partners that we have worked with not only in the summer but also in the winter, as we've shared responsibilities for a performance of Handel's "Messiah", in the North End, featuring also, as we have tonight, our One City Choir. It's my great pleasure to present the young choristers of the NEMPAC choir! Executive Director is Sherri Snow, who's been a fantastic collaborator for us for many years. And the choir is under the direction of their Conductor Alexandra Dietrich. "
Made of talented youth singers, between 9 and 15 years of age, with at least one to two years of choral singing experience, NEMPAC Summer Concert Choir was lead by Conductor and Music Director Alexandra Dietrich, and was accompanied by Pianist Julia Scott Carey.
Their prelude performance included "Evening Prayer" from Hansel and Gretel by Humperdinck, "Victory Chorus" from Brundibar by Krasa and composed in Theresienstadt, "Stars" from The Little Prince by Portman, "He Will Gather Us Around" from Dead Man Walking by Heggie with soloists Alyssa Hensel and Stephanie Scarcella, "Va Pensiero" from Nabucco by Verdi.
"The NEMPAC Summer Concert Choir truly gave their finest gifts of voice, heart, and song at the Hatch Shell this past Wednesday evening. Technically speaking, they sang in harmony, Italian, and rhythmically challenging music. Emotionally, though, they gave parts of themselves to champion the children's opera choruses by allowing us to hear the laughter of the stars from Rachel Portman's "The Little Prince" to hearing the triumph over evil in the "Victory Chorus" from "Brundibar", an opera composed for Jewish child prisoners during World War II in the Theresienstadt concentration camp. I am immensely proud of their hard work and their joy that they imparted to each and every song."
— Alexandra Dietrich, Music Director at NEMPAC
This prestigious concert also included the performances of Boston Landmarks Orchestra (Christopher Wilkins, Conductor), One City Choir, Back Bay Chorale (Scott Allen Jarrett, Music Director), Meredith Hansen (Soprano), Ann McMahon Quintero (Mezzo-Soprano), Yeghishe Manucharyan (Tenor), and Nathan Stark (Bass-Baritone).
Photos were provided by Michael Dwyane.
For more information about the North End Music & Performing Arts Center, please visit 
www.nempacboston.org
.
Share This Story, Choose Your Platform!