Congratulating Stefano Marchese who receives distinction for his statewide accomplishments in Music Education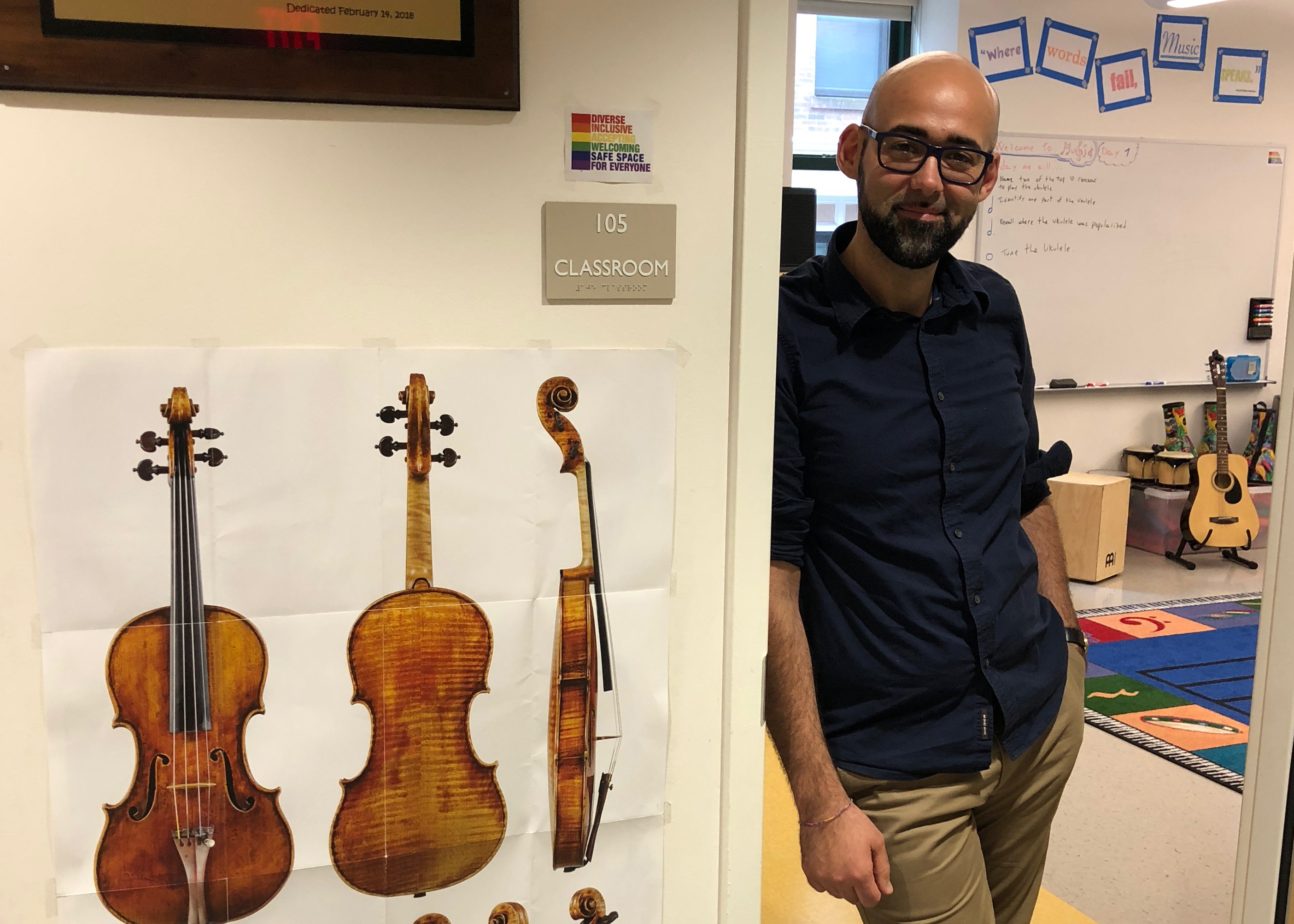 North End Music & Performing Art Center is so pleased to celebrate Mr. Stefano Marchese's success! Most Recently, Stefano received his first publication on the Massachusetts Music Educators Journal, titled "Music Production as a Culturally Responsive Teaching Tool," and was awarded the "Music Education Award" from Berklee College of Music and Boston Conservatory which truly reflect his knowledge, enthusiasm and unwavering commitment to music education.
Stefano has been involved at NEMPAC as a music instructor, Eliot School music director, and artistic director of our Summer Concert Series for over three years. We are so proud of all the work he does at our school partnership site at the Eliot K-8 Innovation School to lead its music program!
All his students lovingly know him as "Mr. M." He is maestro Stefano Marchese. He is warm, honest, and passionate, yet soft, unwavering and direct. NEMPAC is fortunate because the Eliot School and principal Traci Griffith for make the arts a priority in their school. With support from the EdVestors BPS Arts Expansion Fund and Liberty Foundation,  the NEMPAC/Eliot School Music Program continues to grow and develop.
He was born and raised the oldest of three siblings —with Francesco and Frederica— in the town of Pescara, in the Abruzzo region and the beautiful Adriatic coast of Italy. His music journey begun as a child, when he kicked off his music education with classical guitar and voice lessons. With the support of his family and many educators along the way, he soon started listening to popular jazz and soul singers who would influence his learning and help shape his future performances.
Stefano moved to Rome to attend "Corrado Pani Arts Accademy" and graduated in Literature from "Roma Tre University." He became a Soloist for a variety of groups such as "Unbound Voices Gosper Choir" and "All Music Big Band" which provide him with the opportunity to perform in notable stages such as "Varese International Gospel Festival" and "Villa Celimontana Jazz Festival," and work for "RAI Television" (Italy's public national broadcaster.)
As an educator, Mr. M has worked as a Vocal Coach and Music Director for a number of private schools in Rome including "Ars Nova School of Music," "Accademia della Musica," and "Jobel Teatro-Arteam School of Art," and public schools in Pescara like "Dante Alighieri" (Pescara) and "Liceo Scientifico Galileo Galilei." He's collaborated with Cinzia Spata on her book "Jazz Vocal" (Volonte' & Co., Milano, 2010) which has become a most popular vocal technique book in Italy.
In 2010 he moved to Boston from his native Italy to expand his music horizons and, in 2013, graduated from "Berklee College of Music," majoring in Contemporary Writing and Production.  
Stefano has had the pleasure to be selected as music arranger for Grammy Award Nominee Luis Enrique (best known as "The Prince of Salsa") and for a Whitney Houston Tribute. He is also an avid music writer for artists and groups such as Scanzonati, Modular Art Collective Ensemble, and many others.
Since 2011 he has performed with the vocal groups The Singing Tribe and Sung Deep. Stefano also had the pleasure to study and perform with wonderful musicians and artists such as Bill Elliot, Bob Stoloff, David Scott, Joey Blake, Norma Winston, JD Walter, Donna McElroy, Barry Harris, Maria Pia De Vito, Patrice Rushen, and the twelve-times Grammy Award winner Bobby McFerrin, to name a few.
In addition to Jazz, he has explored many projects that have included writing jingles for advertisements and television, and for small and ensembles and film scoring.
He has produced the first TV show for Italians abroad "L'Italia Chiamò" and has directed several concert series in Boston including NEMPAC's "Jazz in The Park".
Stefano is, undeniably, a passionate multifaceted educator, performer, artist, singer, writer, arranger, composer and producer who seeks more meaningful and cultural diversity in music.
He lives in Medford with his wife Milena (who he calls Milly), their young son Vittorio, and their dog Momo. He is a fan of the "Juve" (Juventus Football Club) and cheers the Italian soccer team when they play in the UEFA Champions League.
Stefano has been in the press a number of times, has already received many awards and scholarships, and we are not surprised of his continued success. ​We wholeheartedly congratulate him for his latest achievements.
Share This Story, Choose Your Platform!