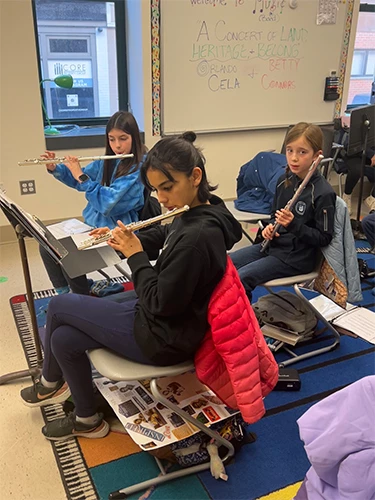 Eliot School Band Program
Mondays (sectionals) and Wednesdays (whole group) from 3:30 - 4:30pm
Grades/Age: Grades 4 - 6
Welcome to the Eliot Band Program! This program will introduce instruments to new band students of the Eliot School. EBP musicians will develop fundamental techniques on their instruments through group lessons and side-by-side instruction. On Mondays, students will divide into instrument groups for a 60-minute group lesson led by NEMPAC Teaching Artists. After Thanksgiving, students will add on Wednesday ensemble rehearsals, meeting with the Band Director to combine their individual work into an ensemble setting. Additionally, students will have two to three performances at the end of the year – the annual Perform-a-thon in April, the BPS Citywide Arts Festival, and the Eliot Music Concert in June!
Sign Up for Info Session & Instrument Show and Tell: October 2nd
Instruments: Students will be assigned one of the following instruments based on their filled out preference sheets: Trumpet, Flute, Clarinet, Percussion. You MUST fill out this instrument preference form for your student. Students who took band last year will get preference for their first choice instrument.
Instrument Rentals: Students selected for percussion do not need to rent or purchase an instrument. All other instruments can be rented or purchased at Virtuosity Musical Instruments on 234 Huntington Ave. Boston, MA 02115 | 617-530-1993 or info@virtuosityboston.com and ask for Alek.
Register Here