NEMPAC Opera Project 2023-24 Coming Soon….
Last year's season was a success! NEMPAC Opera Project presented the Marriage of Figaro on June 9th & 10th at the Dante Alighieri Society, transformed into the lavish mansion of the famous Conte and Contessa Almaviva, set in 1950s Cambridge. A whirlwind day of comedic calamity ensues as the couple makes their way to the alter, navigating complex social hierarchy, challenging gender roles, and uncovering surprise love triangles. NEMPAC Opera Project's Le nozze di Figaro is an intimate and colorful pop-art inspired production of Mozart's beloved masterpiece.
'22-23 Cast:
Chihiro Asano – Seconda Contadina & Cherubino cover
Christiana Goslin – Barbarina and Susanna cover
Cynthia Lopez Perez – Susanna
David Smyth – Antonio & Conte cover
Hannah Meloy – Prima Contadina & Barbarina cover
Juan-Sebastian Suarez – Conte
Kathryn Tolley – Cherubino
Mary Kray – Marcellina
Raphael Laden-Guindon – Figaro
Sarah Rogers – Contessa
Tyler Cesario – Don Basilio and Don Curzio
William O'Brien – Don Bartolo & Figaro cover
Production Team:
Brenda Huggins – Stage Director
Alyssa Wang – Conductor
Sapphire Toth – Production Manager
Charlie Berry – Stage Manager
Alexandra Dietrich – Artistic Advisor
Melanie Rucinski – Assistant Music Director & Rehearsal Pianist
Josh O'Brien – Lighting Designer
Nancy Ishihara – Costume Designer
Lauren Cook – Supertitle Operator & Translation Consultant
Kate Doucette – Wardrobe Assistant
Boston Festival Orchestra:
Nicholas Brown – Executive Director
Alyssa Wang – Artistic Director and Principal Conductor
Jae Cosmos Lee – Violin I
Kurt Munstedt – Violin II
Alexander Vavilov – Viola
Nicole Cariglia – Cello
Nathan Varga – Bass
Melanie Rucinski – Keyboard
Allison Parramore – Flute
Catherine Weinfield-Zell – Oboe
Nicholas Brown – Clarinet
Naho Zhu – Bassoon
Nick Auer – Horn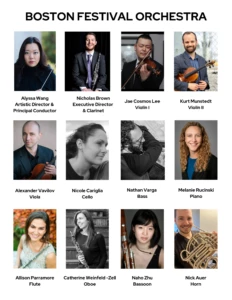 We believe that opera takes the human experience and amplifies it.
NEMPAC Opera is North End Music & Performing Arts Center's critically-acclaimed opera company that opens doors for composers, artists, and audience members by producing creative works that are global in scope.
We represent composers of diverse backgrounds and identities to elevate their contributions to an art form that too often erases the history of their works.
We create opportunity for the next generation of opera singers to launch their careers, bridging the experience gap between recent college graduates and professional artists.
We tell stories that represent the communities and cultures of Boston, ensuring this art form is approachable and relevant to all audience members.
We exist to propel professional musicians forward in their continued growth in artistry.
NEMPAC Opera transforms amateur artists into budding opera singers prepared for independent, professional careers.
The opera company intentionally schedules offseason performances to attract and nurture the best of Boston's budding opera talent.
NEMPAC Opera offers performers an extended rehearsal schedule to foster trust among cast members and create space for real-life practical assessments.
The opera company provides staging, music, and character development coaching to emerging artists who go on to pursue lead roles at professional companies, participate in prestigious young artist programs, and compete at the art form's highest levels.
We believe in affordable, accessible opera for all Bostonians.
NEMPAC Opera's power resides in honest storytelling that speaks to the shared experiences of audience members through sound, rather than words.
We believe that opera is as relevant today as when the art form was founded.
Our ticket prices and free community outreach reflect our belief that opera should be affordable and accessible to all.
Production Chronology
2023 – Wolfgang Amadeus Mozart's Le Nozze di Figaro at Dante Alighieri Society
2022 – Stephen Sondheim's Into the Woods at the Boston Center for the Arts
2021 – Juneteenth Celebration, In the Key of Freedom at the Museum of African American History
2020 – Gioachino Rossini's Il barbiere di Siviglia – Mainstage production canceled due to COVID-19 and replaced with Pop-Up Opera: The Barber of Seville
2019 – Rachel Portman's The Little Prince
2018 – Wolfgang Amadeus Mozart's Don Giovanni
2017 – Ludwig van Beethoven's Fidelio
2016 – Gioachino Rossini's La Cenerentola
2015 – Giacomo Puccini's La boheme
2014 – Johann Strauss II's Die Fledermaus
2013 – Wolfgang Amadeus Mozart's Così fan tutte
2012 – Georges Bizet's Carmen
Sponsors
Our Production of the NEMPAC Opera Project would not be possible without the support and generosity of our season sponsors.
Production Sponsor $5,000+
Artist Sponsor $2,500+
Equity Sponsor $500
If you are interested in sponsoring this year's project, please view sponsorship benefits HERE and contact Pamela Feo for more information.
UPCOMING EVENTS
No upcoming events found.