NEMPAC operates out of three buildings in the North End, Boston as well as several satellite locations in neighborhoods across the City of Boston. Performance space is also utilized at several arts partner locations, including the Boston Center for the Arts, Bijou de la Vida Gallery, and the Rose Kennedy Greenway.
Our Commitment to Access:
NEMPAC is working towards ensuring all members of our communities are included and have equal access.
We pledge to work towards improving our existing facilities and creating programming in future spaces that are accessible for all.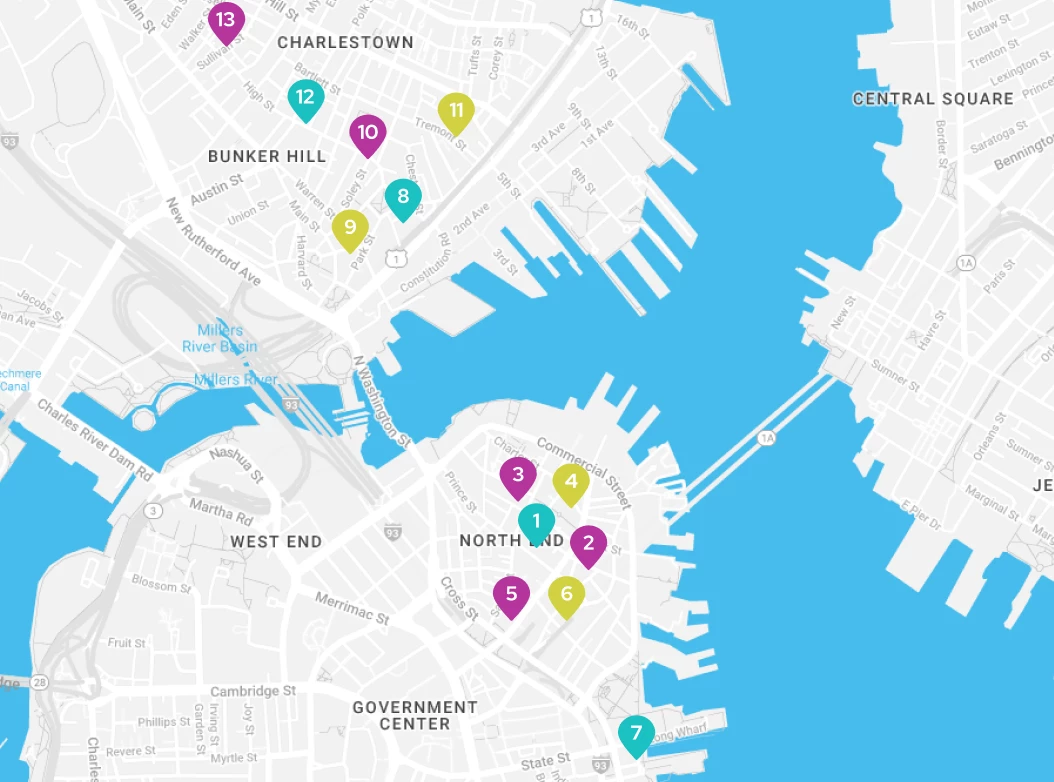 NEMPAC Headquarters: 50 Tileston St
NEMPAC Prado Studios
NEMPAC @ 9 Hull St
Eliot School
SOMA Yoga Center
St. John's School
Boston Harbor Garage
Good Shepherd School
St. John's Episcopal Church
Charlestown MovementLab, 14 Green St
Harvard Kent School
Warren Prescott School
Charlestown Working Theater
50 Tileston Street, headquarters
This building in the North End of Boston is NEMPAC's administrative headquarters as instructional space. The building, which opened on June 5, 2021 following a renovation, triples NEMPAC's Boston footprint, providing the space needed to launch programming innovations, as well as additional private and small group instruction rooms. From community collaborative music nights for local musicians of all levels to adult practice hours, programming plans here prioritize accessibility, engaging rising and professional artists alike. The first floor of this building is ADA compliant; however, the 2nd and 3rd floors are not. NEMPAC is committed to inclusion, and any program offered on the 2nd and 3rd floors of the building will also be accessible in another ADA-compliant NEMPAC facility.
THE PRADO STUDIOS
The Prado Studios hosts Private Music Instruction in its three studios fully soundproof and acoustically controlled. The facility has a community/reception room and a small administrative office.
The Building is owned by The George Robert White Foundation. The George Robert White Fund was established in White's will when he left a trust of $5,000,000 to the City of Boston as a permanent charitable fund. The net income of the fund is to be used only for creating public beauty and utility for the inhabitants of the city, and cannot be used for any of the normally provided services of the municipality. The building is gifted to NEMPAC for $1 a year. This building is fully ADA compliant.
9 HULL STREET
The Hull Street facility hosts our Dance Classes, Rehearsals, Music Workshops, and has a small studio for Group and Private Music Instruction.
The Hull Street Facility is owned by the non-profit East Boston Community Development Corporation, a non-profit community development corporation dedicated to enhancing the life of low income residents of East Boston. It has developed or co-developed more than 1,000 units of subsidized housing and manages 700 subsidized rental apartments. NEMPAC has a lease agreement to rent this facility for an affordable price. This building is fully ADA-compliant.
Programming also occurs at the following off-site satellite locations, arts partners, and school partners listed below:
Eliot K-8 Innovation School, North End
St. John School, North End
St. John's Church, Charlestown
Charlestown Working Theater
Good Shepherd Nursery School, Charlestown
Harvard-Kent BPS School, Charlestown
Warren Prescott BPS School, Charlestown
Bijou de la Vida Art Gallery, North End