Community
NEMPAC Boston was founded in 2001 by local mothers to foster the love of music in their children's lives. Since then, the organization has become a vital part of the community, serving thousands yearly through music and performing arts programs for all ages and levels of experience. We take pride in the outreach programs we provide our communities – seeking to eliminate all potential barriers to participation in the arts.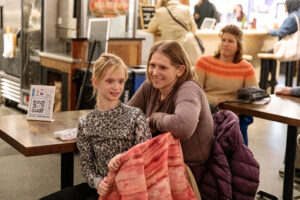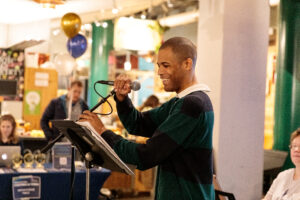 "Thanks again for all you do for [student]. He's so much happier because of you, more than you could know…
We can't thank you enough, again. He's discovered a world he loves and it's so wonderful to have him affirmed and encouraged.
A NEMPAC Parent

"My daughter, Dinero, started taking performing arts classes at NEMPAC when she was five years old. She has participated in many musicals and recitals since then.…
Now 12, she has blossomed into a skilled and knowledgeable actor/singer/musician. Recently, Dinero was cast as a principal actor in a TV Series called "Defending Jacob"; her role is a singer in the middle school choir. NEMPAC has played an important role in her successes. The support, guidance, experience, and patience exuded by the teachers has made a major impact in her life. WE THANK YOU NEMPAC!"
Darla Jelley, NEMPAC Parent & West End Resident

"I first brought my daughter in to participate in the Holiday Choir but was encouraged that parents could also participate.…
Going to choir practice together created a special bond that made our hearts full. My daughter and I arrived and left each practice singing & smiling."
A NEMPAC Parent

"NEMPAC took a quiet little girl and gave her the skills and courage to shine on stage.…
Despite moving across town, we continued with NEMPAC because we knew that the quality of experience was far beyond than other programs in the city, especially for the cost. It was Annie's second home. Now, living out west, Annie has been given leads in a highly-competitive program and is working on a project to perform at Disneyland this spring. We attribute her love of performing, and her confidence and skill set to NEMPAC's teachers. We could never thank them enough!"
The Bugbee Family

"By introducing music into my child's life, I have seen her confidence further flourish,…
her work ethic strengthen with each practice, and her heart smile happy every time she learns and performs a new song and realizes that she is able to play such beautiful sounds!"
A NEMPAC Parent

"NEMPAC cultural events programming has provided our family with many opportunities to connect with…
friends or meet new friends in the community throughout the years, from Family Music Makers, to Halloween & Pumpkin Painting Parties, to Holiday Choir practices, to Theatre Performances, to Music Lessons."
A NEMPAC Parent

"Learning to play the piano as an adult student is humbling. Practicing, requires time and concentration…
and it is a great mental exercise to get away from your computer on a daily basis. The encouragement by my teacher helped me reach new heights last year by performing a duet with another adult student. We played Country Gardens and wore spring dresses/hats at the recital and had so much fun. So, if you are thinking about singing or piano lessons and want to join us, put your piano/keyboard in your living room and every time you walk by it, sit down and play it. You'll be glad you did. Then, sign up for a few lessons! With the great staff, you'll find the right teacher for you! See you soon!"
Lisa Ayres, Adult Piano Student

"I'm so happy that I can play things I could never do before.…
Sometimes I make mistakes but if I keep practicing I keep getting better. And I'm getting pretty good at it!"
Alba-Lis, Piano, Guitar and Ensemble Student

"NEMPAC staff and teachers have been the light at the end of our tunnel!…
Parents of Dinero & Darla Jelley, Guitar and Ensemble Students

"Meet the Instrument was Vivian's favorite camp of the whole summer.…
A NEMPAC Parent