NEMPAC Health Safety Policy 
Updated: May 19, 2023 
Please see below for NEMPAC's most updated health guidelines. We strive to maintain the quality and regularity of our program, which we believe results in the greatest learning and successful outcomes.  
We reserve the right to, at any time, change our masking or vaccination requirements or modify an in-person program to a virtual platform due to sickness or a public health emergency.
NEMPAC Updated Protocols:
FACE-MASKS

:

Are not required.

VACCINATIONS:

In accordance with the

City of Boston COVID Guidelines

– NEMPAC highly recommends the COVID vaccination but will not require it. 

SCREENING & STAYING HOME WHEN SICK:

We require that if individuals attending programs do not feel well or are exhibiting symptoms of being sick, to stay home. If we notice any symptoms in a person, we reserve the right to send this individual home or refuse from attending a program or event.

CLOSE CONTACT EXPOSURE & TESTING:

A

VACCINATED or UNVACCINATED INDIVIDUAL

who was a close contact with someone who tested positive to COVID-19, must monitor themselves for symptoms. If a sibling or member of the same household tests positive, we require that student to return showing a negative antigen test – and that student must be masked for at least 5 days following the date of a family-members positive test.

If a positive case is a family member or sibling you live with, it is

highly recommended

you do not attend programming that week. 

COMMITMENT TO COMMUNICATION:

NEMPAC staff is committed to timely and excellent communication. In the event of a positive COVID case, all close contacts will be notified via email within 24 hours from NEMPAC when a positive case has been reported. We also ask our enrolled students or families to notify us when a positive case occurs. 

HAND WASHING & SANITIZING:

Instruments with mouthpieces will always be sanitized between use. It is recommended that Instructors, staff, students, and visitors utilize hand sanitizer placed in each studio, instructional space, or community room, as well as wipe down any equipment used between use with wipes that are equipped in each studio and classroom. 

GROUP SINGING, WOODWINDS, & BRASS

: All singing, woodwind, and brass programs will resume in indoor spaces; however, singers and instrumentalists are recommended to keep 6 feet from their instructor in private lessons. 
Professional Performances and Concerts: 
In addition to the protocols listed above (this does not include student recitals): 
Public concerts or events will be held indoors and outdoors. 

In accordance with City of Boston guidelines, vaccinations are not required for audience members or artists. But highly recommended.

Face masks are no longer required indoors, however, are recommended with an audience size of 300 or more. Masking requirements may change to meet the requirements of the specific venue and consider our audience size.

If a performer chooses to hold themself to higher COVID standards, such as wearing a mask while singing, that decision will be honored by the NEMPAC staff. Any additional requested protocols that may affect event management should be relayed to NEMPAC in advance so preparations can be made accordingly. 
Positive Case Protocol:
If a member of our NEMPAC community tests positive for COVID, that individual, vaccinated or unvaccinated, should refer to the

CDC guidelines

on guaranteeing and isolating, which are:

Isolate at home for 5 days.

Wear a mask around others for 5 additional days.

If you continue to have symptoms, such as a fever, after 5 days, stay home until your fever resolves.  Then start your 5 days of wearing a mask.
Private Music Instruction:
The instructor will continue lessons remotely or utilize a make-up week for the session. The lesson will not be refunded or rescheduled if no make-up weeks are available. 

If a staff/faculty member tests positive for COVID, they will have a substitute, or lessons will resume virtually. If a virtual lesson cannot occur, up to two lessons will be offered at the end of the semester. 

Unfortunately, NEMPAC cannot issue refunds for the program following our registration deadline.
Group Classes / Summer Workshops:
If a staff/faculty member tests positive for COVID, they will have a substitute or a make-up week will be utilized at the end of the session. A virtual class will be scheduled if the makeup week is already used and an additional day is required.

No refunds will be given to students for having to miss a class due to a positive case of COVID19. 
Events:
Follow sickness protocol and isolate for 5 days. We will handle refunds to any ticketed concerts or events on a case-by-case basis. 
Internal Communications Protocol with Positive Case:
Should any COVID-19 positive cases arise during NEMPAC's programming, the following is an internal communication protocol: 
Step 1: Positive Case is Reported to NEMPAC by calling 857-239-9997 or info@nempacboston.org. 
Step 2: Educational Programs Director is immediately informed if the case is in the Community Music School, or the Operations Manager if the case was from a public event or performance. 
Step 2: The Educational Programs Director or Operations Manager, with final approval from the Executive Director, decides on the next steps for isolation, testing, etc. 
Step 3: The Educational Programs Director* or Operations Manager will inform all faculty, staff, audience members, and/or families that were a close contact and include how we will be moving forward. The Educational Programs Director and Operations Manager will include all NEMPAC Administrative Staff in all communications. 
*Should the student be a private student, this communication will instead be sent out by the Private Instruction Manager. 
**Should the Educational Programs Director be away, the NEMPAC Educational Programs Coordinator will manage the communication with families. 
Our Definition of Close Contact: 
We define close contact as someone within 6 feet of an infected person for over 15 minutes. 

Exposed individuals who are vaccinated or unvaccinated and asymptomatic are allowed to remain in programming.  Families must monitor for symptoms and are encouraged to rapid test. 

Exposed individuals/close contacts who are involved in a NEMPAC program that meets on consecutive days of the week or that return to NEMPAC within 24 hours for programming must show a negative COVID test upon returning. It is at the discretion of the NEMPAC administration if COVID testing will be required further upon returning. 

Children who test positive for COVID must refrain from programming for 5 days where then, they are able to return but must wear a mask for the 5 days following the quarantine period. 
Guidelines for All Summer Programs
In addition to all current Health Safety Policy protocols & guidelines listed.
25 Students maximum enrollment at our Improv Asylum location

16 Students maximum enrollment at our Hull St. location 

Students (or their caretaker) must sign in and out at drop-off and pick-up.

Snacks and lunch break will take place outdoors, weather permitting.

All Summer Workshops will take place at least 30% of the time outdoors, weather permitting, including snack and lunch time. 

Class rosters, once set at least one week before the program, will not change. This minimizes the amount of spread possible if a student contracts COVID-19, and ensures we will be able to communicate to all relevant parties.

NEMPAC's Summer health and safety guidelines are subject to change pending any city or state guidelines.
Invest in Our Future
We are building a future in which everyone, regardless of age or ability, has the opportunity to participate in the arts. We believe that music and the performing arts affirm our humanity and provide ways to express our unique identities. Together, we can create a world that is equitable, creative, and joyful.
Our goals for NEMPAC's future include: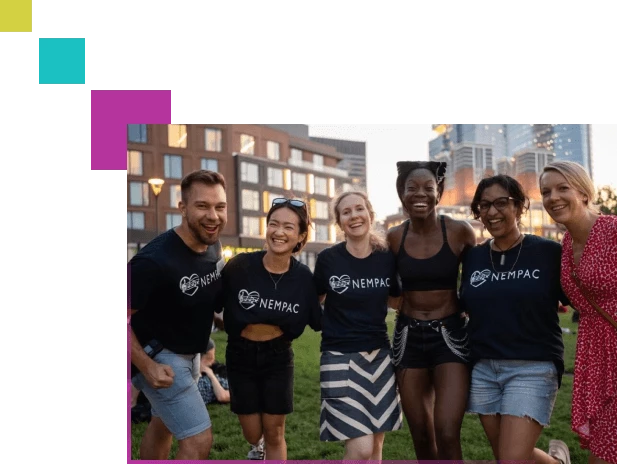 Advancement of Equity in everything we do
Artistic Excellence in Education and maintaining the best educators and staff in Boston
Sustaining Our Campus to ensure accessibility to all in our spaces
Gaining Financial Stability through donor support and investing in staffing