Gaby Cotter & The Timba Messengers is a Latin Jazz/Salsa Band that has generated a compelling musical style that inspires all to shed their daily troubles and revel in the joy of dance. Their live performances are infused with vibrant energy, radiating positivity and good cheer to all in attendance. Combining the rich musical heritage of Latin America with elements of Jazz and Afro-Caribbean rhythms, the band's sound is a melting pot of diverse cultural influences, expertly blended to produce a truly unique listening experience. The distinctive flavor of each member's nationality adds an additional layer of spice to their music, resulting in a dynamic and captivating sonic tapestry.
PERFORMANCE DETAILS:
When: 7:00 PM to 8:30 PM
Venue: Rose Kennedy Greenway | North End Parks
Address: Corner of Cross Street & Hanover Street
FREE!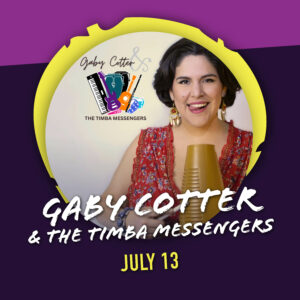 Experience the magic of live jazz under the open sky with NEMPAC's Jazz in the Park series. Gather with fellow music lovers in a beautiful outdoor setting as talented jazz musicians deliver soulful performances that are sure to leave you feeling inspired and uplifted.
Led by Artistic Director Stefano Marchese, the series brings together a mix of different cultures throughout the world through contemporary jazz sounds. Jazz in the Park takes the audience on a musical journey that proudly highlights the unique and diverse sounds that unite us all. From the comfort of the Rose Kennedy Greenway, we invite you to join us: All five concerts are free to attend and open to the public! So stop by and help us kick off each of the five Summer weekends. We are looking forward to seeing you on The Greenway, right in front of Canopy by Hilton!
This free outdoor summer concert series welcomes ALL and is open to the public!
Our Location on the Greenway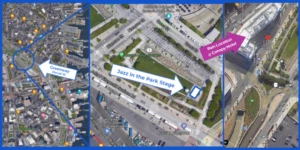 This accessible outdoor concert series would not be possible without the support of our sponsors!
Sponsorship Opportunities & Ways to Participate as a Local Business
Contact Pamela Feo, Development Manager
Contact Now
For more updates, follow us on Instagram, Facebook, and Twitter @nempacboston.
If you enjoy hearing free, public concerts, please consider making a donation of $10, or the cost of a ticket, to help support the future of live music programming.
Make a Tax-Deductible Donation
"Since my first season directing the series back in 2017, I have aimed to take audiences on a journey worldwide through the inclusive and diverse model that jazz music represents. As a performing arts center, we transform iconic Boston landmarks like the Rose Kennedy Greenway into nontraditional concert venues. This transformation empowers us to creatively bring live music to you and your family, connecting you and your loved ones with world-renowned artists. Jazz in the Park seeks to represent musically what a community should look like: many different voices on the same stage that together result in beautiful and unique harmonies."