This concert features an eclectic assortment of music derived from Hispanic cultures. Spanning from the Renaissance to present day, the program highlights music from Spain, Argentina, Brazil, Mexico, and New Mexico. Through exploration of classical guitar repertoire, the program displays the wonderful variety of Hispanic music and the various influences involved in this vibrant tradition.
DATE/TIME: Wednesday, October 11 @ 7 PM
VENUE: 50 Tileston Street NEMPAC Headquarters in the North End
ADDRESS: 50 Tileston Street, Boston, MA 02113
TICKET COST: $20 – General Admission | $10 – Student (18 and younger using the code STUDENT at checkout)
ABOUT THE ARTIST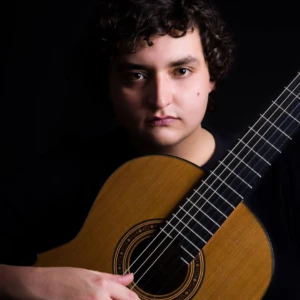 Fred Springer is an artist dedicated to sharing music and art with the world through performance, outreach, and education. Having performed on three different continents in countries including Argentina, Canada, Switzerland, and the United States, Fred has developed a compelling way to share his passion for the classical guitar with audiences across different cultures. He has been awarded top prizes in international guitar, ensemble, and mixed instrument competitions. He earned a Bachelor of Music from the University of Texas at Austin where he also completed a minor in Art History, and a Master of Music from Columbus State University where he served as a graduate assistant in the Schwob School of Music.
Fred now resides in Boston, MA, where he serves as Program Coordinator for Boston Kithara Project, and on the faculty of EKS Music School and the North End Music & Performing Arts Center (NEMPAC). In addition, Fred arranges and transcribes music for guitar and has a passion for film and visual art.
PARKING
There is no designated parking for this venue. The North End has street parking, and various parking lots. You can additionally park at the Haymarket Garage (a 10 minute walk away!) and we can validate your ticket for $3 for up to 3 hours. Please just let a NEMPAC staff member know before you leave the concert.
PUBLIC TRANSPORTATION
The nearest T stations are Haymarket and North Station (orange and green lines), each a 10 minute walk away.