Nadia Washington rises to any occasion as a songwriter, producer, and educator and vocalist. Her talent has opened up opportunities to perform with renowned artists in Jazz and R&B including: Esperanza Spalding, Lalah Hathaway, Dianne Reeves, Terri Lynn Carrington and the late George Duke – as well as making an impact with movers and shakers in the Hip Hop World including Ray Angry of the Root, Georgia Anne Muldrow and Dj Mark De Clive-Lowe. Born and raised in Dallas, TX, Nadia began showing signs of an entertainer at the age of 3 to a mother who was an acclaimed singer in her own right. As far back as she could remember, she was surrounded by some of the premiere musicians of the Dallas Metroplex. Nadia is an alumna of Booker T. Washington HSPVA where she could learn more about the music that mesmerized her. Attending this school led her to many more opportunities that gave her national recognition – winning 2 DownBeat Student Music Awards and the National Foundation for the Advancement of the Arts. In 2006, she received The Monterey Jazz Festival Outstanding Jazz Vocalist award and participated in the Grammy Jazz Ensemble. Nadia was then accepted to Berklee College of Music on the Bill Cosby Presidential Scholarship. While in college, she was experimenting with the Latin and Brazilian sounds she heard in jam sessions and in the classroom. A providential moment occurred when she heard the sounds of Rosa Passos for the first time. The following summer, Nadia taught herself to play Brazilian guitar. Upon completing college, Nadia returned home for a year to spend time with her family, Nadia began to rediscover the sounds of her hometown, Dallas TX. All the knowledge she accumulated in college as well as her musical roots began to coalesce to fit her unique personality and musical taste. After moving back to Boston, Nadia released two youtube videos to share her new sound with friends and family. Little did she know that it would spark the interest in world renowned musicians such as Nicolas Payton and Ms. Dianne Reeves. Nadia had the privilege to collaborate with Dianne Reeves and Terri Lynn Carrington to create a song called "Feel So Good" featuring the late George Duke on the Beautiful Life Album That won best Jazz vocal Album 2015 at the Grammy Awards. Nadia has also toured Russia, and Europe and has performed in Africa, and Japan. Along with performing in the New England area, she is now a faculty member in the Ear Training and Voice Department at Berklee College of Music. Her sound is a blend of Jazz, Soul, R&B, and World Music.  She is in the process of recording her highly anticipated album that is set to be released Winter of 2023.
PERFORMANCE DETAILS:
When: 7:00 PM to 8:30 PM
Venue: Due to heat advisory/potential rain we are moving this performance into the Boston Public Market
Address: 100 Hanover Street, Boston, MA 02108
FREE!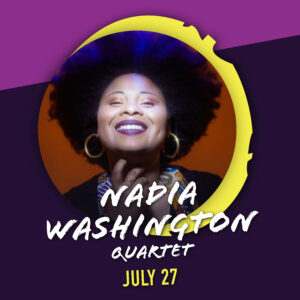 Experience the magic of live jazz under the open sky with NEMPAC's Jazz in the Park series. Gather with fellow music lovers in a beautiful outdoor setting as talented jazz musicians deliver soulful performances that are sure to leave you feeling inspired and uplifted.
Led by Artistic Director Stefano Marchese, the series brings together a mix of different cultures throughout the world through contemporary jazz sounds. Jazz in the Park takes the audience on a musical journey that proudly highlights the unique and diverse sounds that unite us all. From the comfort of the Rose Kennedy Greenway, we invite you to join us: All five concerts are free to attend and open to the public! So stop by and help us kick off each of the five Summer weekends. We are looking forward to seeing you on The Greenway, right in front of Canopy by Hilton!
This free outdoor summer concert series welcomes ALL and is open to the public!
Our Location on the Greenway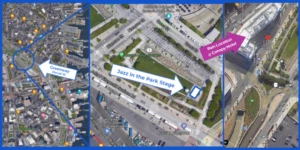 This accessible outdoor concert series would not be possible without the support of our sponsors!
Sponsorship Opportunities & Ways to Participate as a Local Business
Contact Pamela Feo, Development Manager
Contact Now
For more updates, follow us on Instagram, Facebook, and Twitter @nempacboston.
If you enjoy hearing free, public concerts, please consider making a donation of $10, or the cost of a ticket, to help support the future of live music programming.
Make a Tax-Deductible Donation
"Since my first season directing the series back in 2017, I have aimed to take audiences on a journey worldwide through the inclusive and diverse model that jazz music represents. As a performing arts center, we transform iconic Boston landmarks like the Rose Kennedy Greenway into nontraditional concert venues. This transformation empowers us to creatively bring live music to you and your family, connecting you and your loved ones with world-renowned artists. Jazz in the Park seeks to represent musically what a community should look like: many different voices on the same stage that together result in beautiful and unique harmonies."