Cettina Donato is an internationally acclaimed classical and jazz pianist, composer, arranger and conductor. Her highly original work often blurs the lines between genres: from jazz to classical, and from symphonic music to theatrical music. In 2011, while based in Boston (MA, USA), Donato formed the Cettina Donato Orchestra, a full size jazz big band with a string quartet featuring musicians from all over the world.  Across the ocean, in Italy, Donato is the only woman who conducts classical symphony orchestras performing a jazz repertoire while also contributing her own arrangements as well.  Cettina Donato conducted the Bari Metropolitan Symphony Orchestra (Bari, Puglia), the Vittorio Emanuele Symphony Orchestra (Messina, Sicily), the Lucca Jazz Orchestra (Lucca, Tuscany), the Molfetta Youth Symphony Orchestra (Bari, Puglia), the New Talents Jazz Orchestra (Rome). Along with her many large ensemble works, she has regularly collaborated in a trio and quartet setting (as a bandleader) with some of the most renowned musicians of the international jazz scene (Eliot Zigmund, Stefano Di Battista, Fabrizio Bosso and many others). Donato was awarded the prestigious JazzIt prize (Italy) as Best Arranger in 2013, 2016, 2018 and 2019. In 2017 Donato released Persistency-The New Project featuring drummer Eliot Zigmund. Donato's other works were released in 2008 (Pristine, Cettina Donato Quintet), 2012 (Crescendo, Cettina Donato Orchestra), 2015 (Third, Cettina Donato trio), 2019 (Piano 4 Hands), 2021 (I Siciliani -Vero Succo Di Poesia-). Donato's 7th new project, called MITO, came out in May 2023. It's a concept album about the Greek Myth: the proofs of life in our times are rooted in the myth that unveils itself, and therefore is topical, precursor of contemporary society. Stories made of blood, passions, of what is rational and irrational, gods that descend to earth to save human beings, or equally to ruin their lives only because of their own idleness or indolence. There is no emotion of which the myth does not tell through its characters. Donato graduated from Berklee College Of Music (Boston, MA, USA) with degrees in Jazz Composition and from Conservatory "A. Corelli", Sicily (Italy) in Classical Piano, Jazz Music, Musical Didactic, from University of Messina in Social Psychology. Donato's artistic career is accented by teaching Jazz Piano courses at the Conservatory "N. Piccinni" in Bari (Puglia, Italy).
PERFORMANCE DETAILS:
When: 7:00 PM to 8:30 PM
Venue: Rose Kennedy Greenway | North End Parks
Address: Corner of Cross Street & Hanover Street
FREE!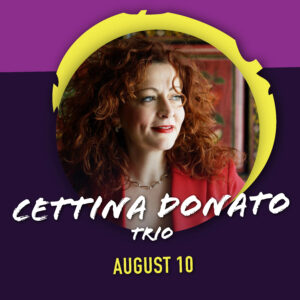 Experience the magic of live jazz under the open sky with NEMPAC's Jazz in the Park series. Gather with fellow music lovers in a beautiful outdoor setting as talented jazz musicians deliver soulful performances that are sure to leave you feeling inspired and uplifted.
Led by Artistic Director Stefano Marchese, the series brings together a mix of different cultures throughout the world through contemporary jazz sounds. Jazz in the Park takes the audience on a musical journey that proudly highlights the unique and diverse sounds that unite us all. From the comfort of the Rose Kennedy Greenway, we invite you to join us: All five concerts are free to attend and open to the public! So stop by and help us kick off each of the five Summer weekends. We are looking forward to seeing you on The Greenway, right in front of Canopy by Hilton!
This free outdoor summer concert series welcomes ALL and is open to the public!
Our Location on the Greenway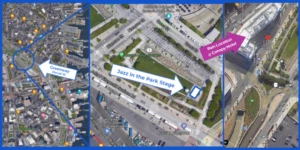 This accessible outdoor concert series would not be possible without the support of our sponsors!
Sponsorship Opportunities & Ways to Participate as a Local Business
Contact Pamela Feo, Development Manager
Contact Now
For more updates, follow us on Instagram, Facebook, and Twitter @nempacboston.
If you enjoy hearing free, public concerts, please consider making a donation of $10, or the cost of a ticket, to help support the future of live music programming.
Make a Tax-Deductible Donation
"Since my first season directing the series back in 2017, I have aimed to take audiences on a journey worldwide through the inclusive and diverse model that jazz music represents. As a performing arts center, we transform iconic Boston landmarks like the Rose Kennedy Greenway into nontraditional concert venues. This transformation empowers us to creatively bring live music to you and your family, connecting you and your loved ones with world-renowned artists. Jazz in the Park seeks to represent musically what a community should look like: many different voices on the same stage that together result in beautiful and unique harmonies."